A great company blog can help drive sales growth and propel business success over the long-term. But you have to be smart about how you do it.
As with any blog, choice of topic and excellent writing are key to successful company blogs. You need to blog about subjects that people search for. And you must satisfy readers so they stay on your site.
Interestingly, I looked at several best company blogs lists and found many of the blogs mentioned were performing poorly in terms of organic traffic. That shows you don't need perfect design and great aesthetics. What wins are readable blogs posts with awesome content.
Here are my tips for anyone who wants to drive sales and grow their business with a corporate blog, business blog, small-business blog or personal blog. We also list examples of the best business blogs.
If you're interested in my background, I own and manage Lerna.courses. Ongoing success essentially depends on me blogging better than my competitors, and it's not always easy.
Lerna is in the education space where it's often my blog versus university websites. We compete for traffic against colleges with tens of thousands of students. But I've learned that a well-executed strategy can beat, or at least compete against, big, high-authority websites.
1. WordPress Does the Job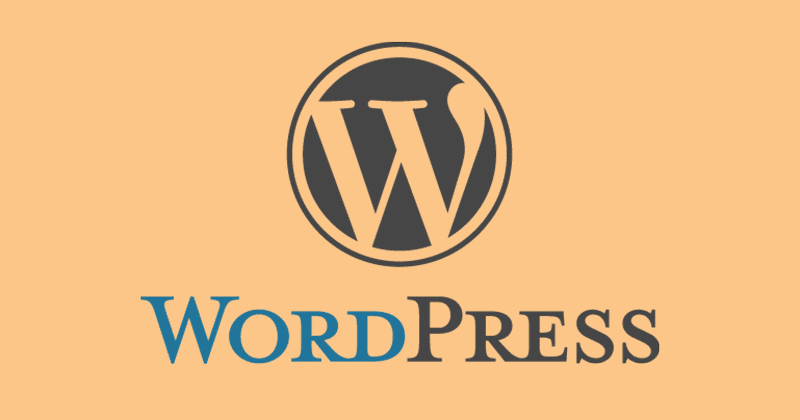 Tip 1 is that, for most small businesses or even large ones, WordPress is the best blogging platform. Anyone with a little technical ability can run a WordPress blog. And, with themes and plugins, it's got loads of power. Using WordPress also allows you and others to maintain a business blog.
If you need the blog to be separate from the rest of your site, install it in a folder such as articles, news or even blog. That means your blog will be on a URL like example.com/articles/. This produces better Google rankings than using a subdomain (like articles.example.com) or a separate site.
2. Invest in Each Blog Post as a Strategy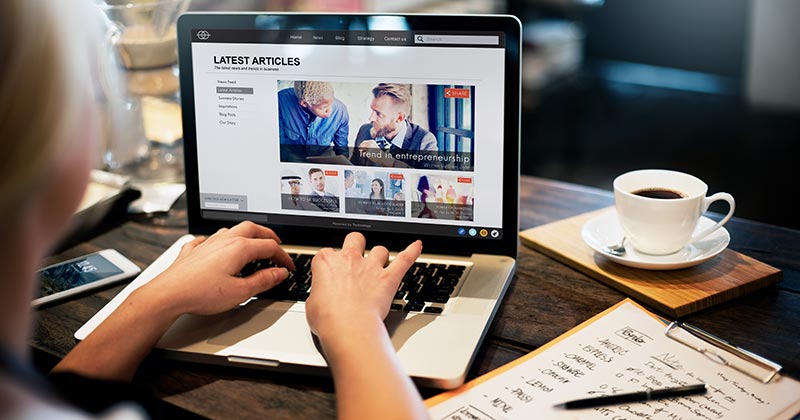 Each addition to your company blog should have a strategic purpose. If it doesn't, you're probably wasting time and resources. That's tip number 2.
Non-performing content bloats and clutters corporate blogs. Don't make the mistake of believing that every blog post you churn out adds value. You may be better off rewriting or even deleting old posts that fail to bring in traffic or deliver sales.
Don't go pumping out 7 articles a day without defining your small business goals and creating a content strategy to attract your customers and improve their user experience.

Neil Patel
For consistent success, blog posts should be worked to high standards and marketed. Both activities take time and effort. That's why, for most businesses, investing in a limited number of effective posts is better than high-volume publishing.
You know those people who tell you to create a blogging schedule, like every day or three times a week, etc.? Don't listen to them. How often you publish depends on your capacity to keep producing high-quality content. A single successful article can be more valuable than a hundred losers.
3. Create Some High-Traffic Pages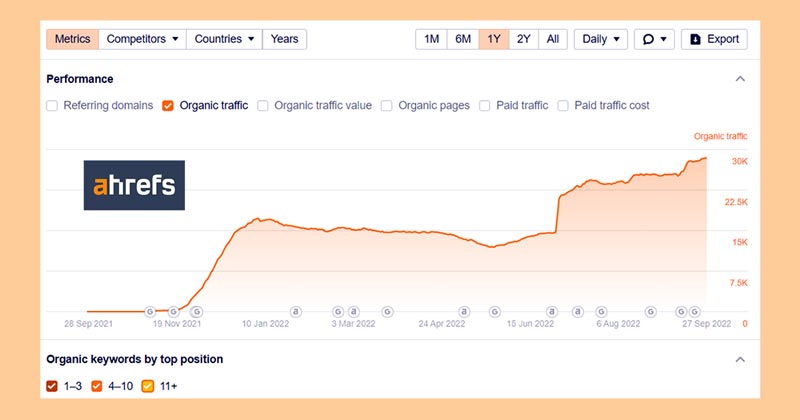 A few pages that bring in big traffic numbers is a good way to launch your business blog. These pages have one purpose: to get eyeballs onto your site. They don't actually have to make money, which is why you should concentrate on creating a few good pages, not loads of pages.
As examples, the topics for two of my higher traffic pages are "free online courses" and "a downloadable timetable for students." These pages have limited commercial value by themselves. But they more than pay their way by boosting blog readership and authority.
4. Produce Useful Content for Your Audience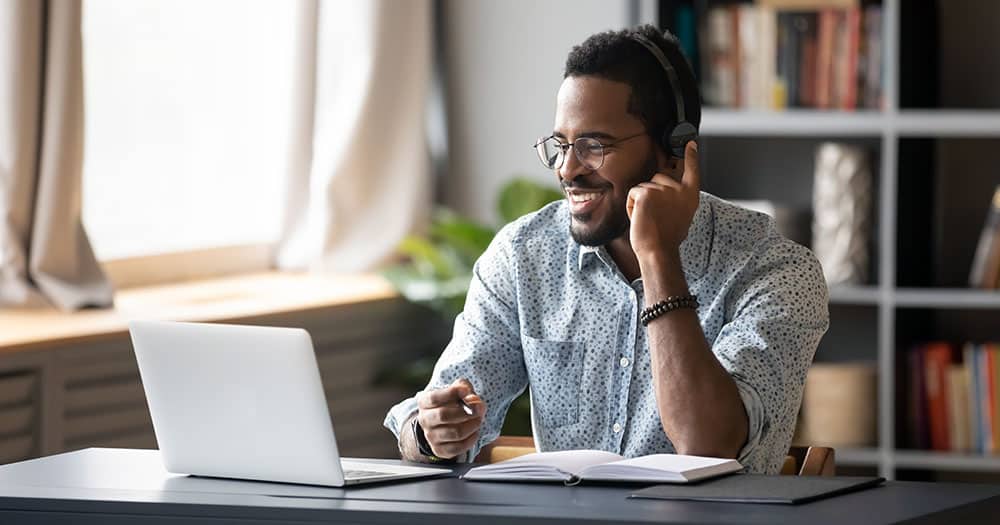 Who do you most want to visit your company blog? From a commercial standpoint, the answer probably should be people who are interested in purchasing the product or service your business sells. The marketing strategy behind business blogs is to attract people browsing the internet and turn some of them into customers.
Try to create content that your target audience will find extremely useful at the moment they are contemplating a purchase. For my blog, I do that by creating pages for people browsing online courses. Corporate blogs should cover topics highly relevant to the products or services being sold.
The trick to effective content marketing, which is what a business blog is essentially for, is to promote your business in an indirect or subtle way. Content marketing fails when the stuff you produce is categorized in people's minds as naked advertising.
5. Use Google Search for Topic Ideas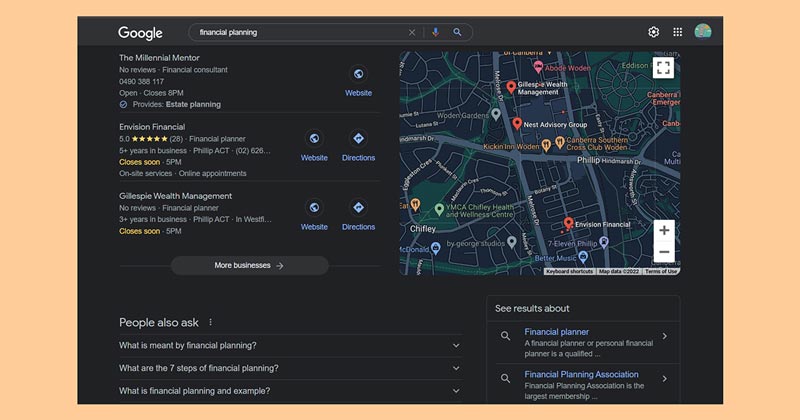 I'm a big fan of using Google search to discover what your buying audience is interested in. You want to write on topics that attract them. That's how you bring in large numbers of potential customers.
Suppose you run a financial planning business in Detroit. Search "financial planning" on Google. At the bottom of the page in related searches, you may see phrases such as "financial advisor detroit" or "financial advisor near me". You'll also see People also ask on the search results page, with questions such as "What is meant by financial planning?"
In this example, prospective clients want to find a local advisor and understand how financial planning works. That's what the blog should give them. Some possible article topics could be "Detroit's Most Trusted Financial Advisor" or "Talk to a Financial Advisor in Detroit."
Also, think about competition for the search term. Especially when a company blog is young and lacks domain authority, it's more realistic to target narrower ("long tail") phrases with lower competition. To illustrate, you could blog about "Financial Advisors in Farmington Hills". As your site matures and you have a few successful blog posts, you're better positioned to target highly competitive terms.
To get scientific with your choice of topic, you can use software such as Ahrefs Keyword Explorer. This will tell you the common searches containing a particular word or words, how much search traffic is generated, and how difficult ranking will be.
6. Design Landing Pages to Receive Ad Traffic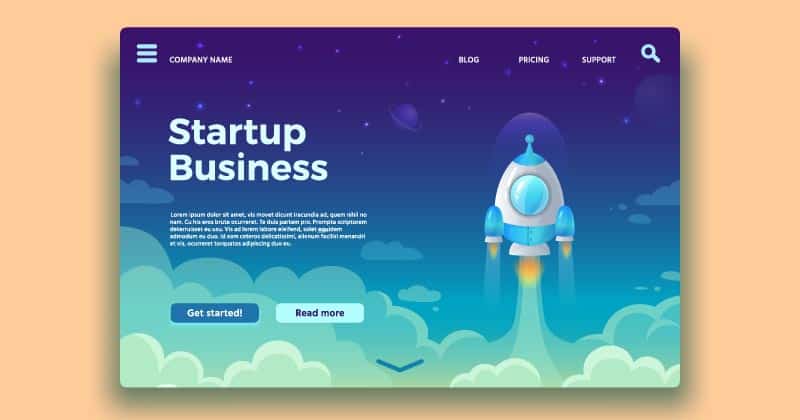 The quickest way to get online traffic to company blogs is to advertise. You can run digital ads on popular platforms such as Google AdWords (which includes YouTube), Facebook and on local news sites, and even other blogs.
For digital ads to be effective, the people who click them should arrive at a page that convinces them to buy your product or service. That's where your business blog comes in. For each ad campaign, you can design the ideal landing page for converting visits into sales.
An effective landing page contains key elements of design and strategy. According to the Daily Egg, a killer headline and powerful call to action (CTA) are two of the basics for driving high conversions rates – that is, getting visitors to do what you want next.
7. Blog for Search Engines, Not Just Customers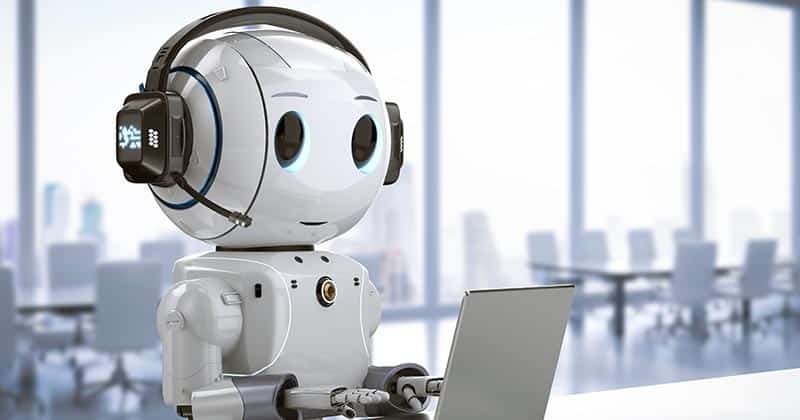 A more challenging method for drawing customers is to rank your blog on the first page of Google for commercial search terms. This is my preferred strategy because it keeps working after you've stopped spending money on it. And your blog gains strength with each successful post.
Ranking well starts with creating content for two audiences: your customers and search engines.
Blogging for your customers means creating content they are interested in and will genuinely find useful.
Blogging for search engines is about helping computer algorithms understand that your content is valuable and relevant to your target audience. Some of the many strategies you should employ are to: place keywords in titles and subheadings, produce varied text on the topic, and link to important pages from other parts of your site.
SEJ considers the five most important on-site ranking factors to be: content, user engagement, technical structure, interlinking and mobile optimization.
8. Use Page Audit Software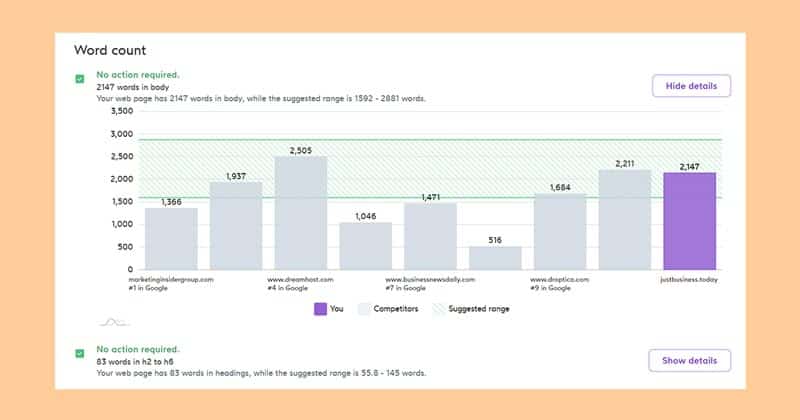 One of the frustrating aspects of blogging is that it takes a while to find out how well you've done. Weeks or months can pass by before your article shows it's ranking ability in search. Even when you see a blog post ranking well, or sitting stuck beyond the first page, you may not know exactly why it's a success or failure.
Enter page audit software. Apps such as Surfer SEO allow you to see how well your post compares against the top competitors for your main search term. The audit results tell you if the word length is sufficient, what key terms could be missing, and give clues when you've over-used keywords. You can tidy up a blog post to ensure it's at least competitive.
Audit software makes it far less likely that you'll produce a dud post and not know how to fix it. You can even go back through your old blog posts and turn non-performing articles into traffic-earning machines. The only word of caution is that you still need original content if you're going to beat the competition.
9. Hire Freelance Writers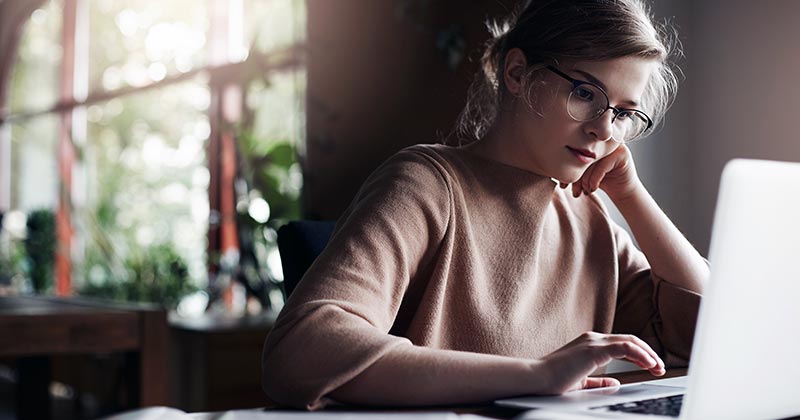 Hiring freelance writers is quite easy and, depending on whom you hire, is generally cheap. For example, you can hire elite-level writers at iWriter.com at a rate of less than $20 per article.
Paying for writing services may be worthwhile even if you have good writing skills. You can use freelancers to produce first drafts or research topics you are unfamiliar with. When you find a great writer whose style you like, you can continue hiring them and effectively train them to write for your business.
While I recommend hiring freelance writers, you still need to be closely involved in the process of creating content. Writers perform better when they have clear instructions and receive constructive feedback. You also need to make sure the final copy achieves your content and marketing goals.
10. Invest in Digital Marketing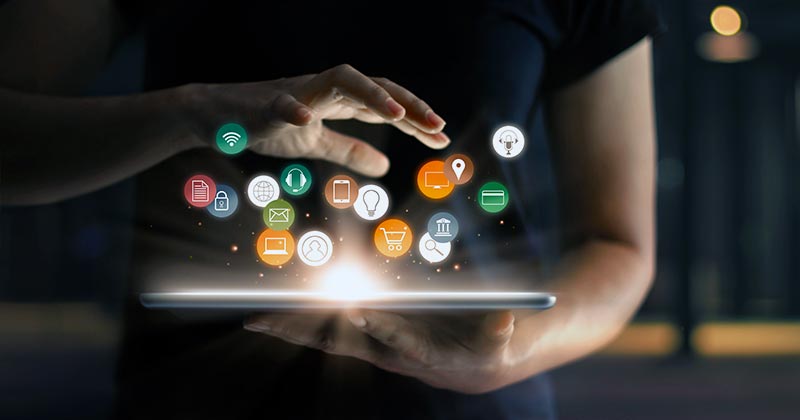 The success of any blog, especially new ones, relies on digital marketing. Online marketing includes advertising and social media marketing. The goal in these cases is to create highly clickable ads or posts that reach your intended audience.
Another of the marketing activities is search engine optimization (SEO). Part of SEO is optimizing blog pages for search algorithms as described earlier. In addition, it's essential to gain links from other sites by initiatives such as outreach and guest posting.
Almost every digital marketing activity falls into one of six types: content marketing, SEO, search engine marketing, social media marketing, affiliates and influencers, and email and message marketing.

Mallory
Be patient with SEO and other marketing methods. They often take time to perfect and get results. For most blogs, search engines tend to be slow ranking new content. It might take several months, for example, for your fantastic new article to start appearing high up in the rankings.
Marketing is more effective and, frankly, more fun if your company blog is really strong. After years of doing it, I've settled on one overarching strategy for successful blogging: produce something to be proud of and then market it for all it's worth.
Best Company Blog Examples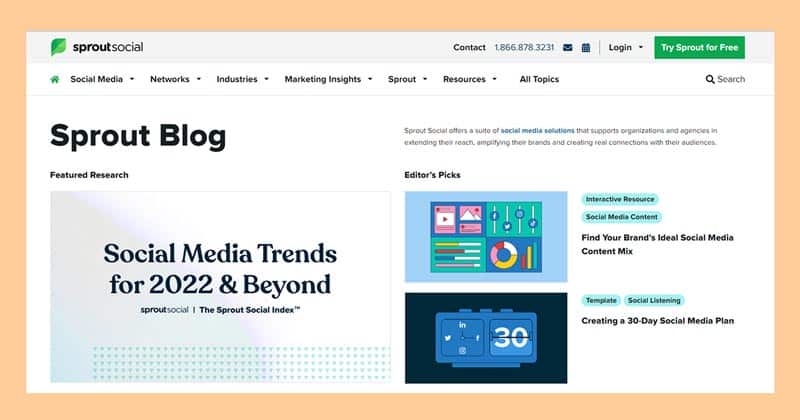 Producing a list of excellent corporate blogs is a little tricky because designs are always changing. The commentary I provide today could be outdated tomorrow. But let's have a look at the best examples of business blogs anyway.
In each case, I'll just link to an example blog post. The home page for a blog generally isn't as important as (a) the title, structure and content of each individual article and (b) the topical authority created by blogging on common themes.
Note that these blogs are relevant even if you're just starting a blog for a small business. What you may notice is that the blogs stick to themes and produce hit blog posts.
Traffics figures last updated: September 27, 2022.
Sprout Social
https://sproutsocial.com/insights/hire-blogger/
For Sprout Social, the estimated monthly traffic from organic search is just on two million, with an estimated value of $2 million as well. The social media blog is doing what you'd hope social media experts can do: generate interest and gain an audience. Blogging frequency is about five times per week.
LIVESTRONG.com
https://www.livestrong.com/article/349026-how-to-advertise-personal-training/
Health, nutrition and fitness blog LIVESTRONG.com is reaching health enthusiasts with a monthly traffic volume from search of 6.5 million, with a value of $2.8 million. The best articles include "A Good Diet Plan to Lose 20 Lbs. in Two Months" and "5 Tips if You Want to Lose 10 Pounds in 2 Weeks".
Neil Patel
https://neilpatel.com/blog/7-awesome-corporate-blogs/
Search Engine Optimization (SEO) guru Neil Patel has a successful blog to support his SEO tools, with organic traffic of 1 million per month and a value of $1.5 million. Patel also gets tons more traffic via his helpful tools such as Ubersuggest and SEO Analyzer. Patel has create a high-authority site with millions of backlinks and pages perfectly optimized for SEO.
Mashable
https://mashable.com/archive/corporate-blogging-tips
How Mashable came to be a massive blog goes somewhat against the grain of my earlier advice to focus on quality, not quantity. Founder Pete Cashmore, at just 19, feverishly published multiple articles daily for his new tech blog. The site launched in 2005 and currently has an estimated 11.9 million visits per month via organic search.
Google has become more sophisticated since 2005. I doubt the high-volume strategy which worked then would succeed now. But there is a lesson there.
Drive and hard work do pay off. It's also important to find a niche that you're passionate about, preferably where there is limited competition. Hopefully, you already have a strong interest in the subject matter when you launch your company blog.