An online ranking for the top online master's in healthcare administration degrees has been published by the consumer group OnlineMastersinPublicHealth.com. Their site was created to inform the public about the most economical and prestigious collegiate programs.
The group selects and ranks the graduate programs by considering public data concerning reputation, accreditation, student satisfaction, the ratio of students to instructors, and overall tuition costs. Degrees eligible for consideration include master's in business administration with healthcare specialties, as well as master's in nursing with management specialties.
Here are the group's top ten online master's in healthcare administration programs.
10. Seton Hall, South Orange, New Jersey
One of the most distinguished Catholic universities in the country, the small class sizes and dedicated faculty makes this 42-credit hour program outstanding. Students are grouped into cohorts for the duration of their studies, and most are able to complete the degree in two years.
The program focuses on six main areas of study: understanding the healthcare environment, managing change, financial competencies, decision making, and strategic leadership and analysis. Although the majority of the coursework can be completed online, three on-campus weekend residences are required for degree completion.
9. University of Scranton, Scranton, Pennsylvania
This small Jesuit university offers a master's of business administration with a specialization in healthcare management degree completely online in 36 credit hours. Designed for working professionals, the flexible program emphasizes the Jesuit ideals of social responsibility and ethical decision making.
8. Quinnipiac University, Hamden, Connecticut
The online master's of business administration healthcare management degree is a 46-credit hour program designed for working adults. The flexibility of the program allows working professionals to access online lectures and case studies from a faculty with 20 years of experience training healthcare administrators. Students may also complete optional residencies or consulting practicums.
7. Boston University, Boston, Massachusetts
This private university offers a master's in health communication, an accelerated, award-winning program that can be completed in 40 credit hours or as little as 18 months. With all courses completely online, working students who want to advance in healthcare management to more communication and publicity have the opportunity to continue their educations.
6. University of North Carolina-Chapel Hill, Chapel Hill, North Carolina
The Department of Health Policy and Management at this public university is ranked in the top two or three in the country, and the academically challenging online executive master's in health administration is a two-year, 48-credit hour program. With training in communication and analytical thinking skills, students are also required to complete three on-campus sessions per year, each lasting four to six days.
5. Saint Joseph's University, Philadelphia, Pennsylvania
Obtainable at a reasonable cost, this Jesuit university offers a master's of health administration in 36-42 credit hours with small class sizes. Students may specialize in informatics, dealing with technologies and policies in record keeping, or health care ethics, focusing on moral theory and ethical decision making. Both degree options can be completed online.
4. University of Cincinnati, Cincinnati, Ohio
This public university is renowned for its knowledgeable faculty and affordable tuition, making the master's of health administration program one of great value. Students focus on basic business theories and management in healthcare. All coursework can be completed online in less than three years, but a residency is required.
3. Vanderbilt University, Nashville, Tennessee
The master's in nursing in health management systems degree can be completed in 39 credit hours or two years of part-time study. All courses are delivered online from an outstanding faculty; students are never required to visit campus, but observations are arranged through collaboration between Vanderbilt and professionals in the student's geographic area.
2. Northeastern University, Boston Massachusetts
This university receives more applications than any other private institution, and its master's in business administration with a healthcare management specialization program can be completed entirely online. The 50-credit hour program is designed for working students who study the history and evolution of the healthcare industry as well as the current issues facing professionals. Students learn all aspects of the healthcare system from an accredited and nationally ranked faculty.
1. George Washington University, Washington, D.C.
Rooted in one of the most highly regarded business schools in the nation, GWU's online master's in healthcare business administration can be completed in two years or 52 credit hours. Designed for healthcare professionals wishing to expand their business and management skills, the renowned faculty trains students to work in a variety of healthcare environments. This program can be completed entirely online.
Online Health Administration Masters in Australia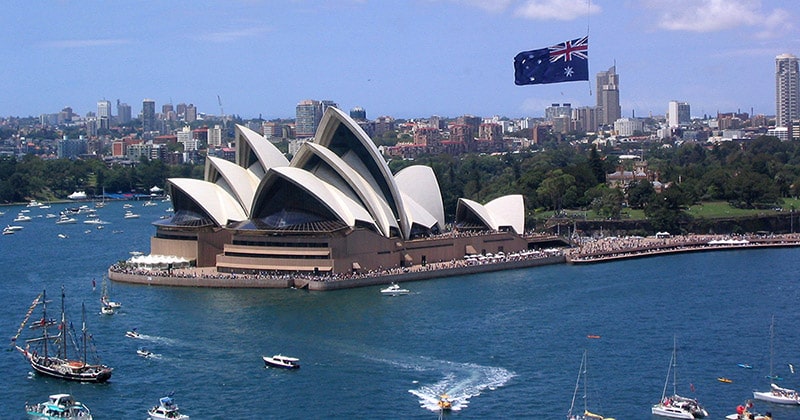 If you want to look further abroad for a good health administration masters, Lerna Australia has a list of online masters in health administration in that country.
You may have heard of UTS (University of Technology Sydney), which is one of the largest technology universities in the world and regularly ranked among the leading universities. Additionally, flexible and affordable health administration masters are offered by the University of Adelaide, Southern Cross University and James Cook University.